Historic Natural Bridge
Curated by Bradley G. Farr
Copyright 2021 © Farr Family
If you have photos that feature historical Natural Bridge scenes and you are willing to share them here, you can email them (with descriptions) to:
geoffrey@geoffreyneil.com.
Or postal mail them to:
Geoffrey Neil
8306 Wilshire Blvd., #7076
Beverly Hills, CA 90211
Thank you for visiting!
Map of Natural Bridge 1864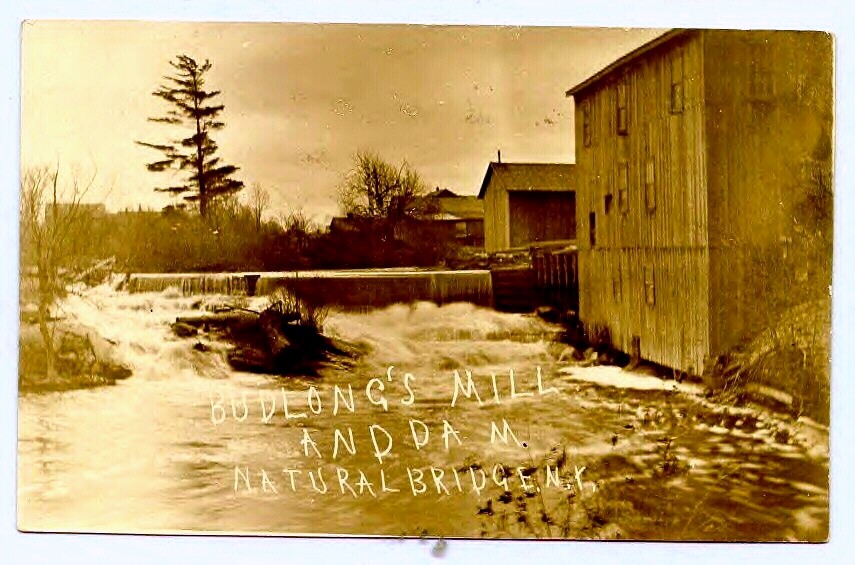 Grist Mill & Indian River Falls
Isac Blanchard House Sand Hill 1870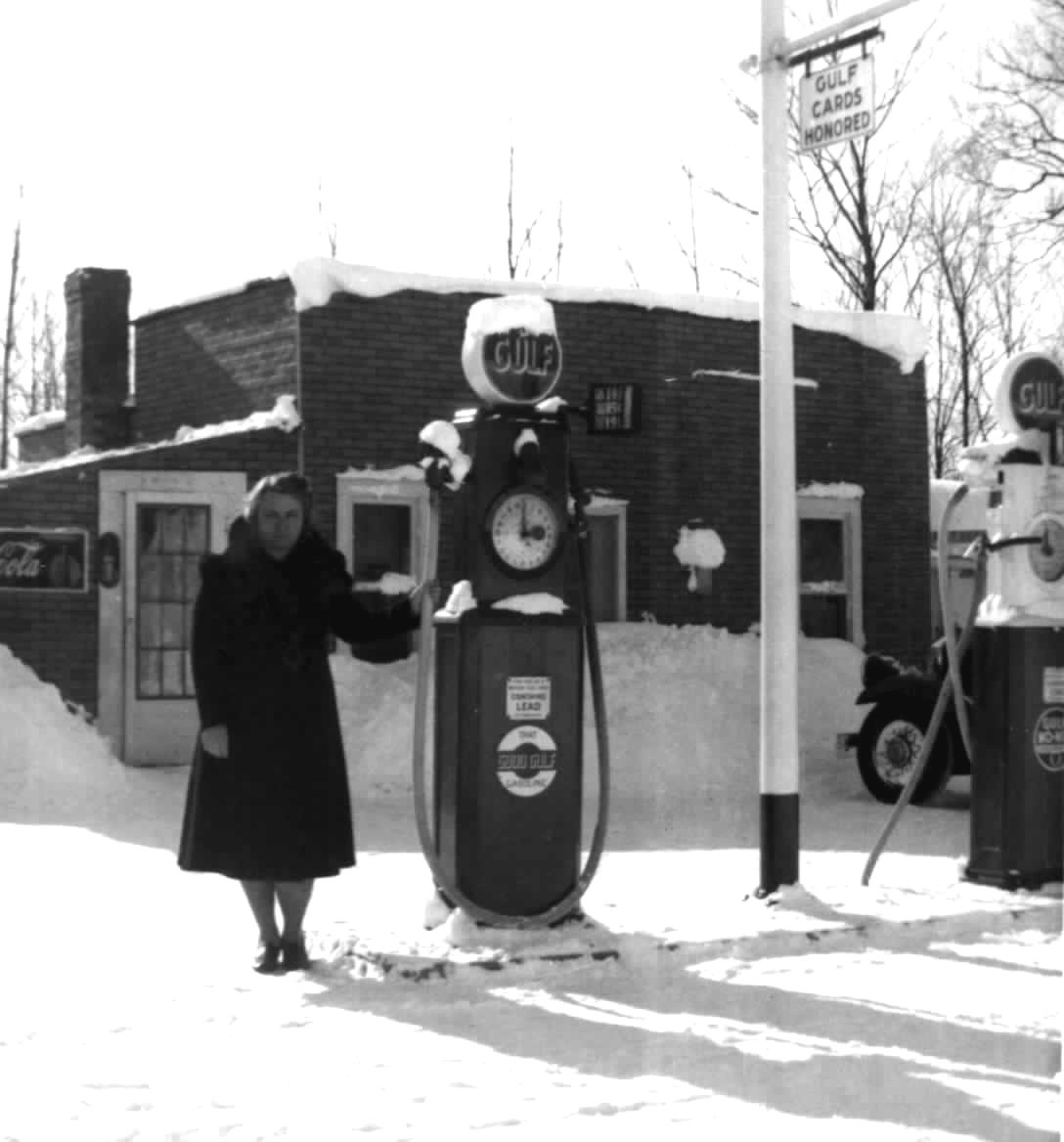 Korleen Farr about 1935-37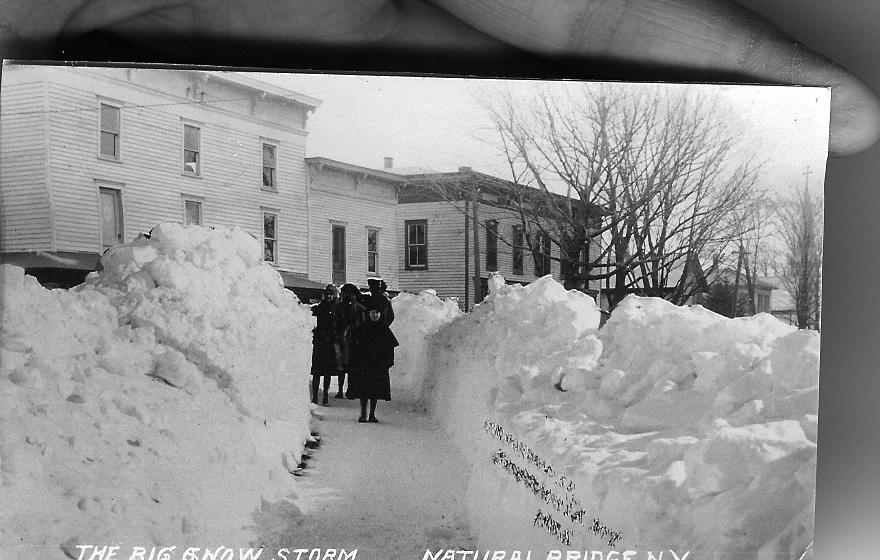 Corner block burned in 1924. Currently Riggi's Diner.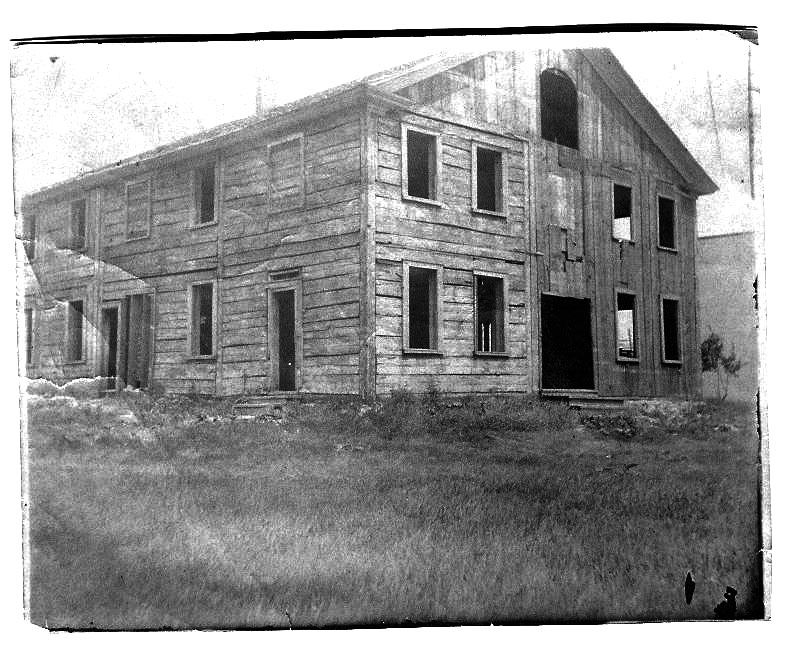 Bonaparte Home Built in 1829 & was dismantled about 1903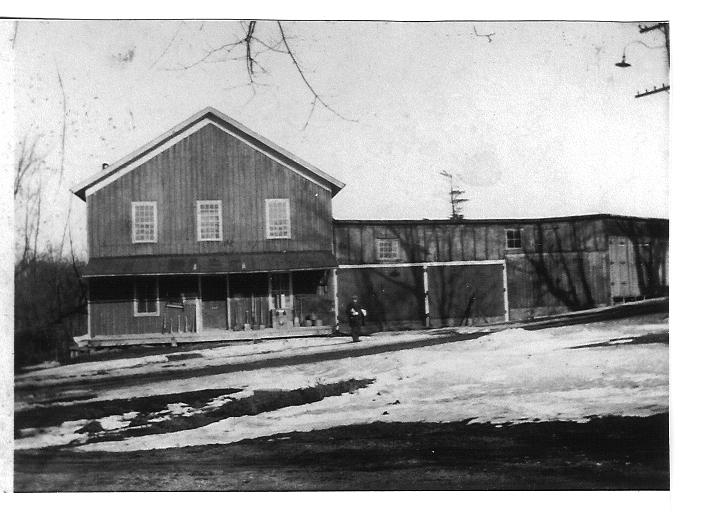 Budlongs Mill Sold bldg. Materials & Hardware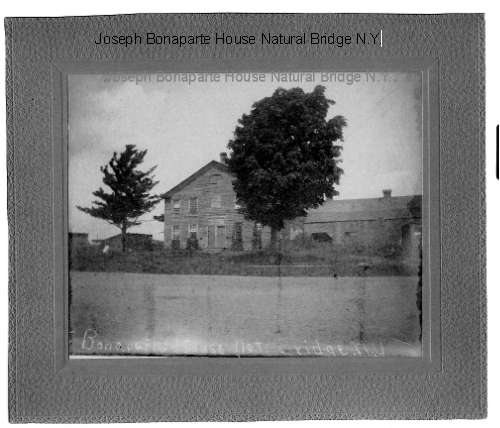 Joseph Bonapartes House in good condition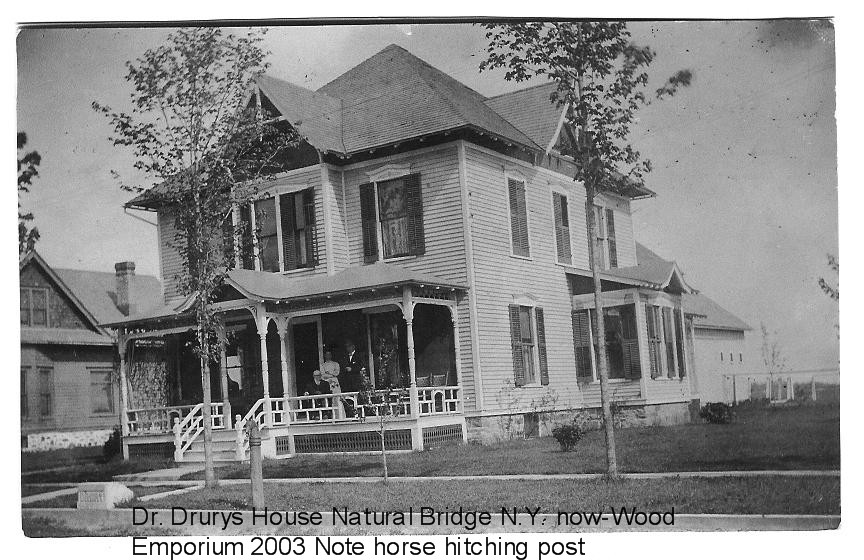 Dr Drury's home note horse tie in front now the wood emporium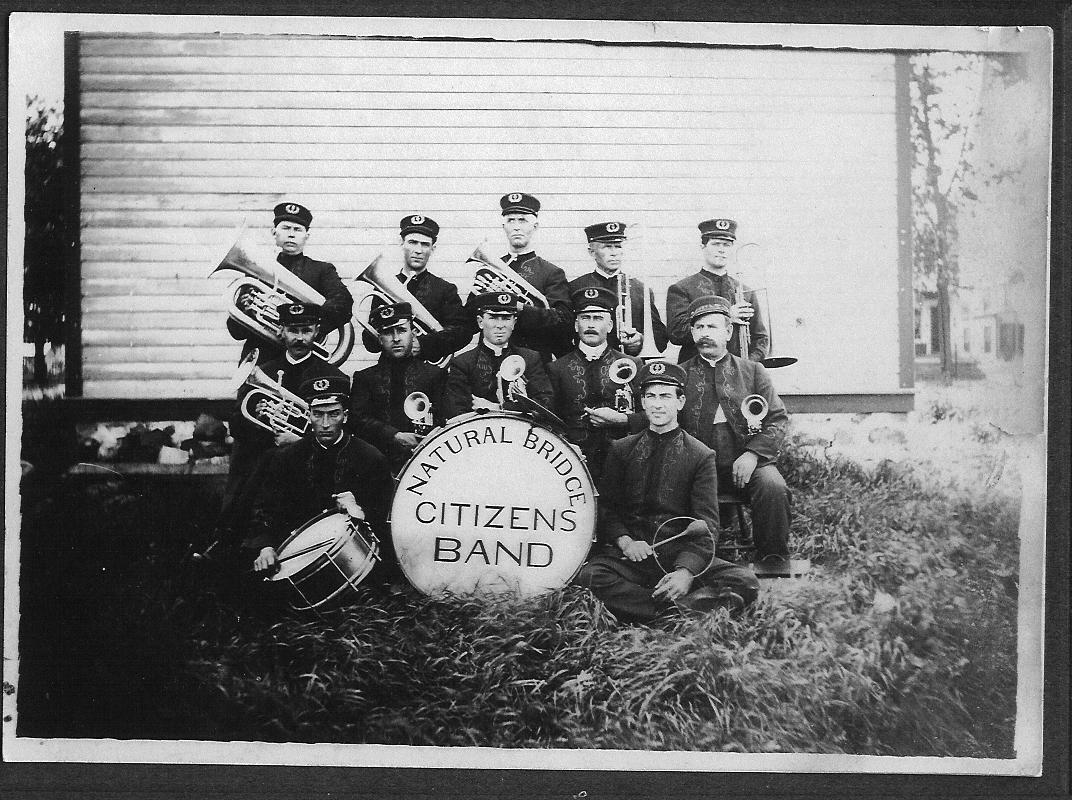 Natural Bridge Band (I have the names of the members)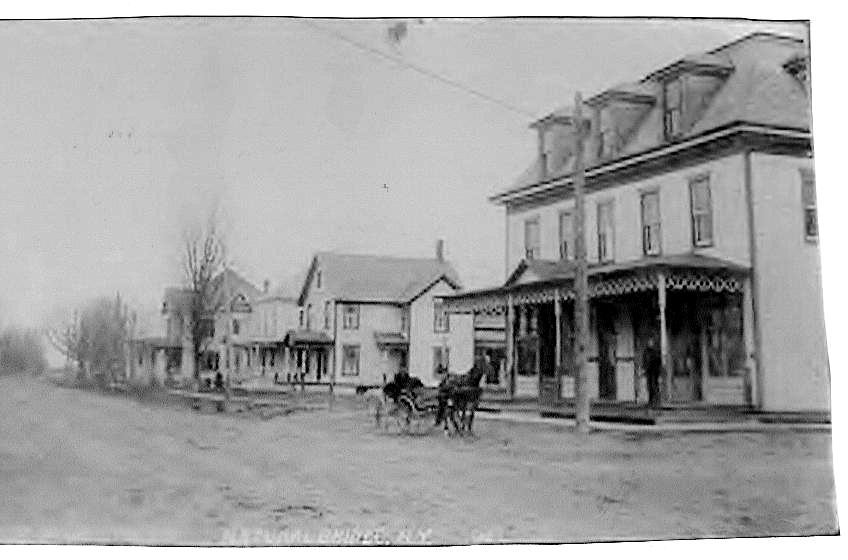 Main St in the 1940's. Was the Montondo block now is called Olley block
Hillside cemetary year unknown cemetary is very small at time of photo.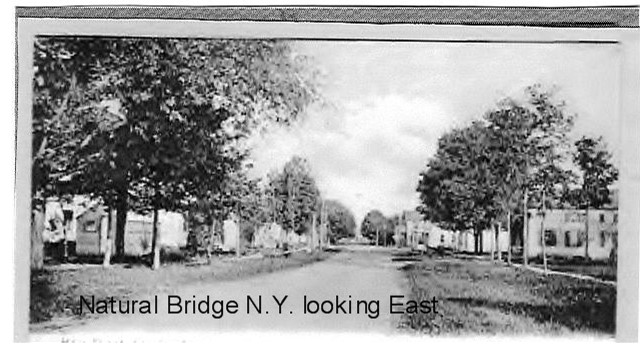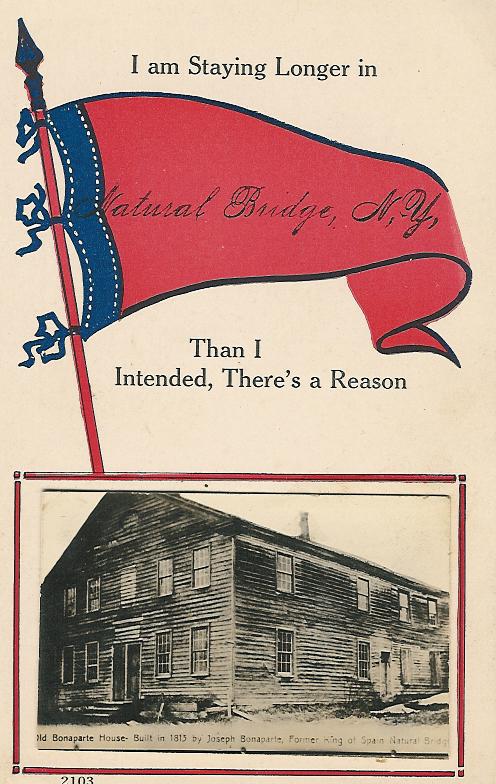 An old advertisement post card for Natural Bridge.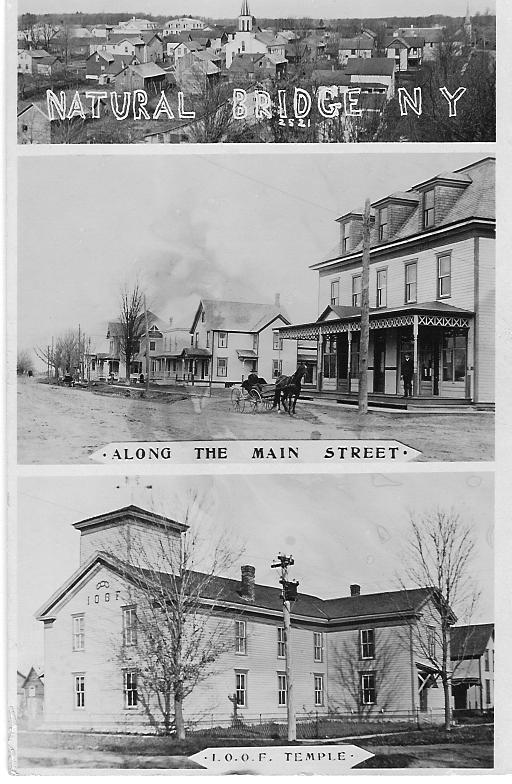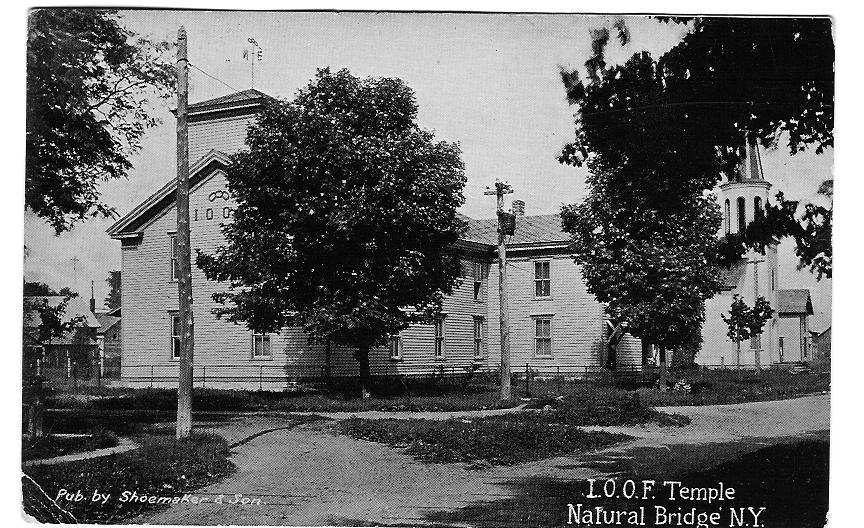 Independent Order of Oddfellows Hall Church St.
Old Central House – Hotel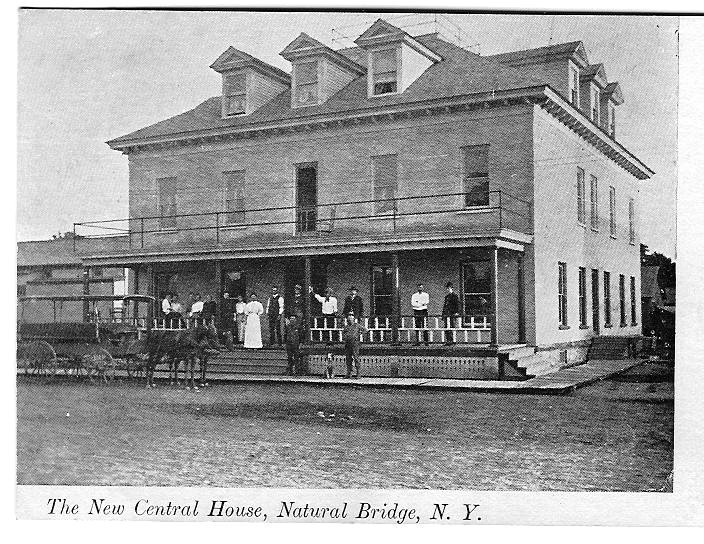 New Central House Hotel torn down by Jeff & Kelly Lawton & Brad & Eleanor Farr about 1995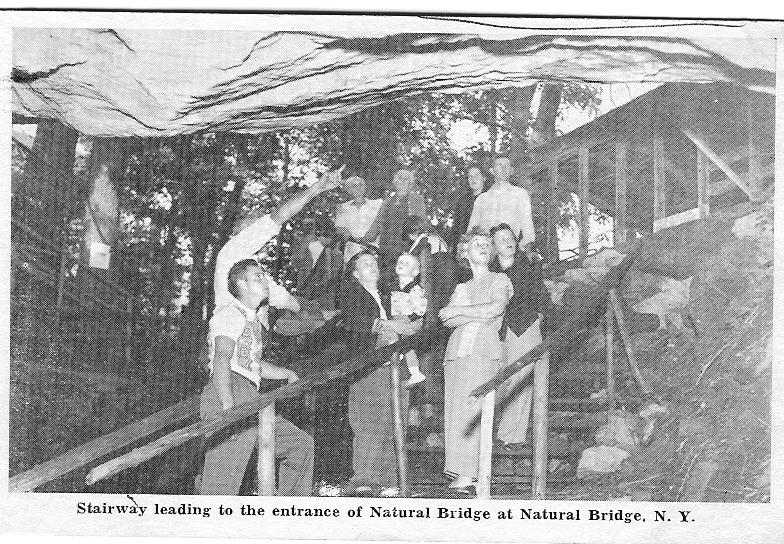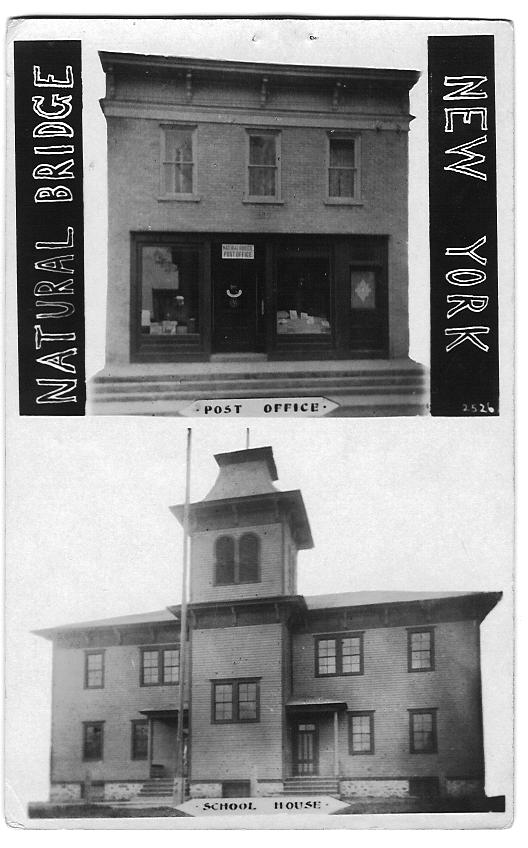 Top is old Post Office now Treats & Tiques. Bottom is old school burned about 1934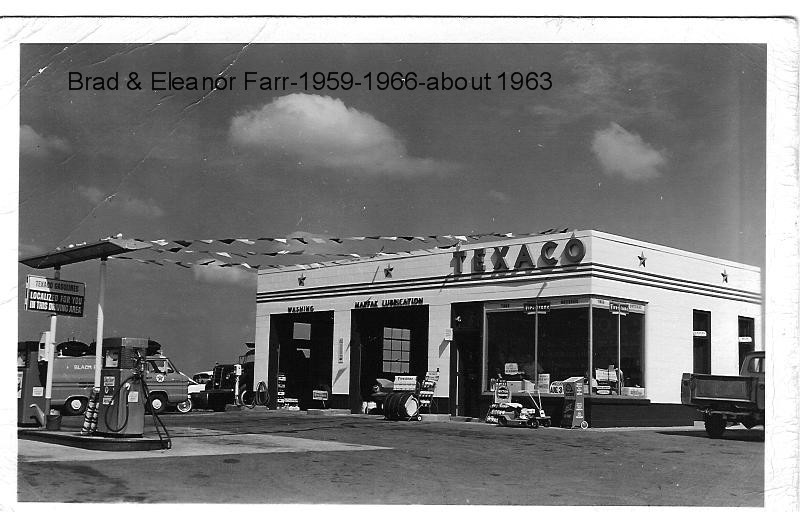 Gas Station Blt by Lloyd & Ethel Wood approx 1957 sold to Brad & Eleanor Farr 1959 and ran until 1967 sold to Cliff & Doreen Hebert and is now the New Brenway owned by Jim & Mary Simpson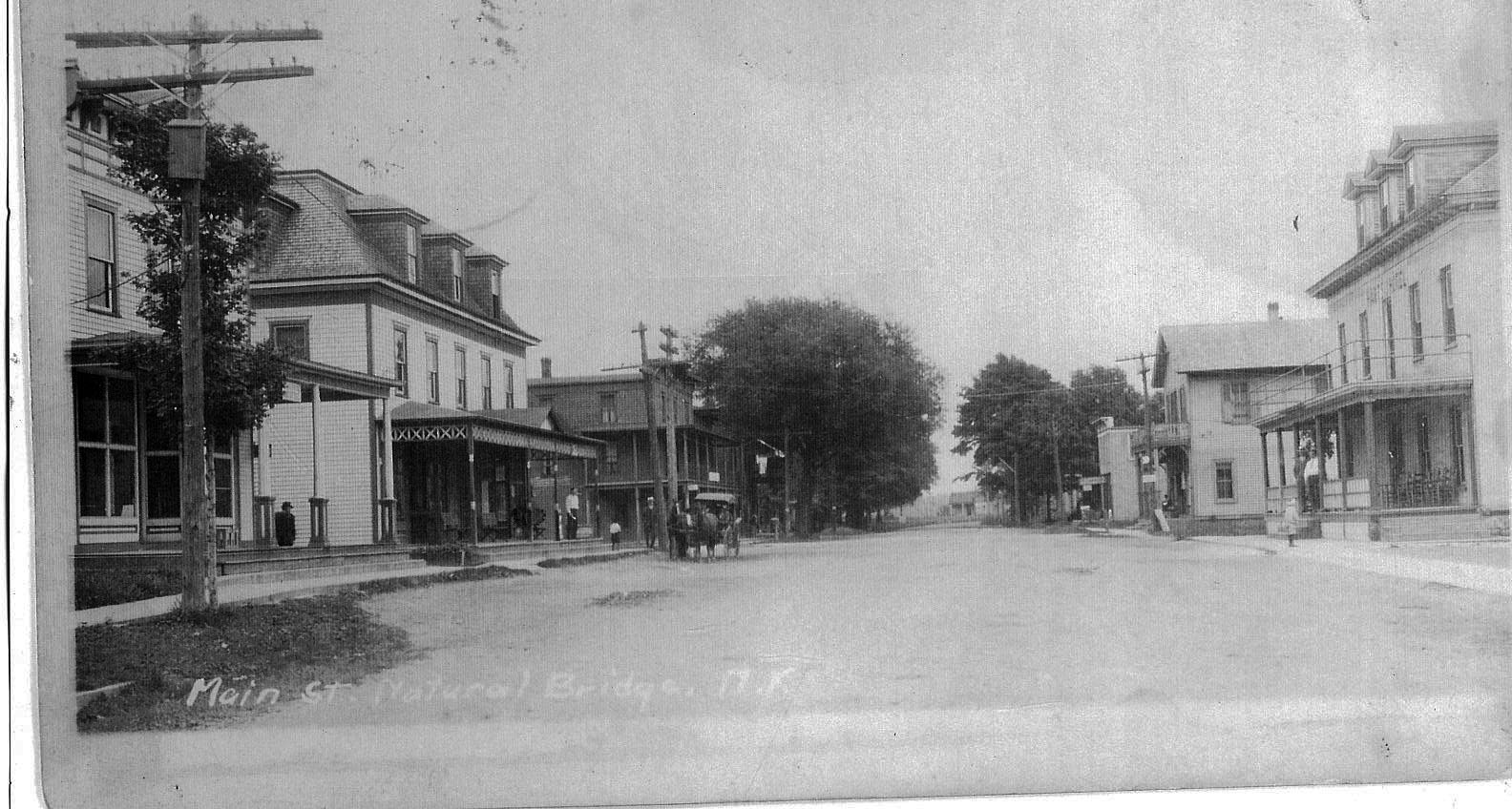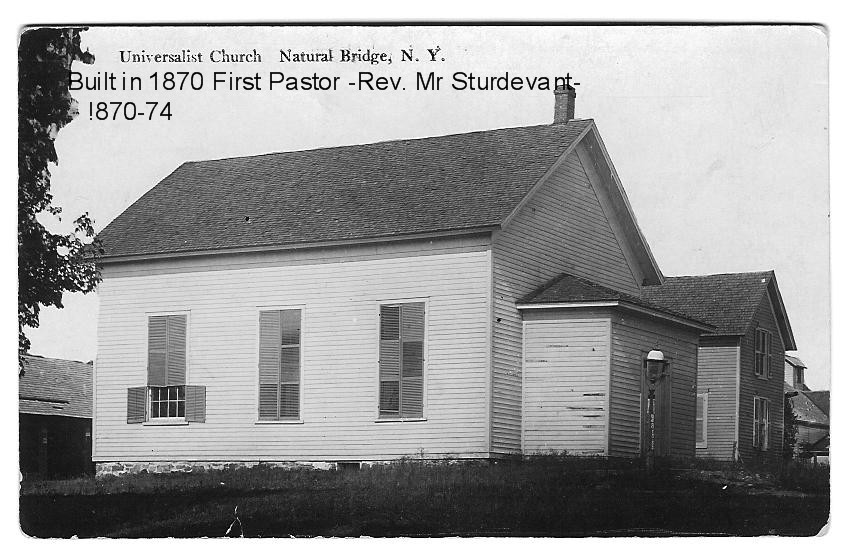 Universalist Church of 1870
Main St. Looking West-Catholic Church on right
Main St looking West-Old Fire Hall on left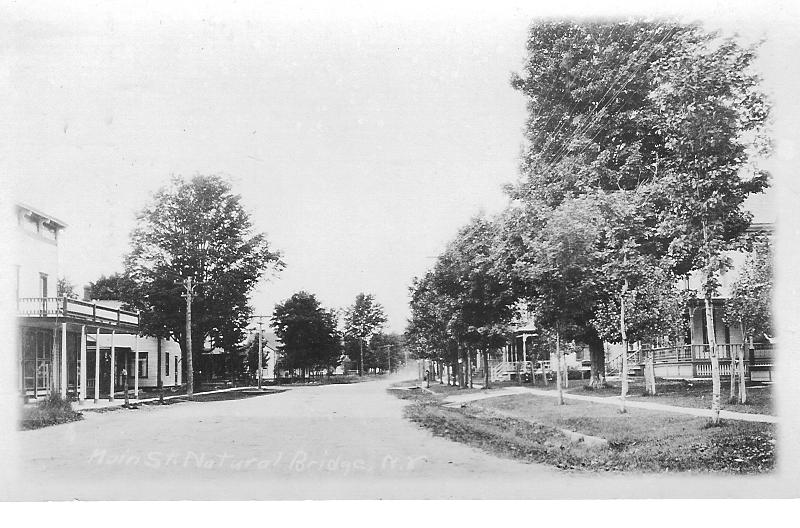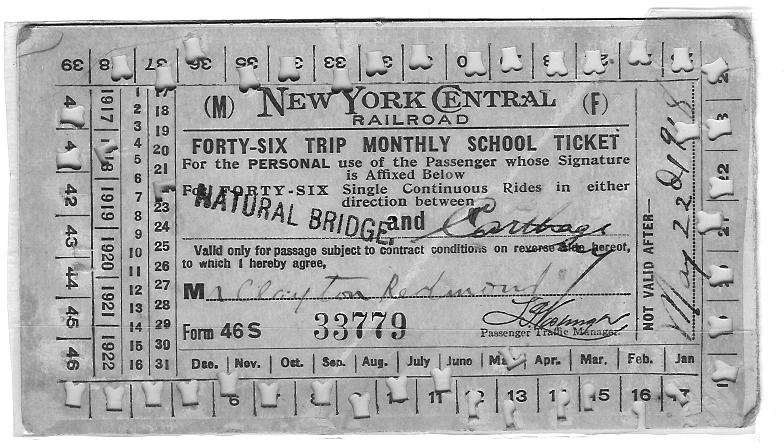 Train Ticket Pupils had to ride the train to Carthage to high School This one was Clayton Redmonds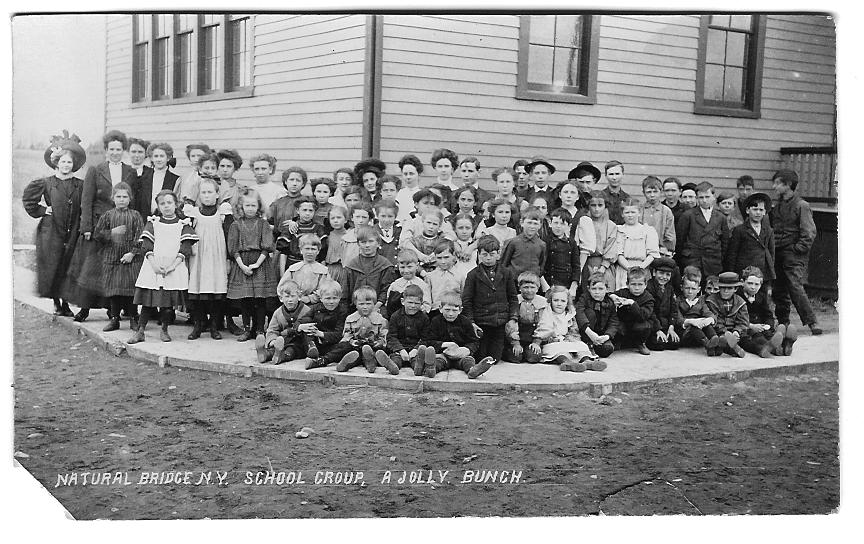 Natural Bridge School- Burned about 1934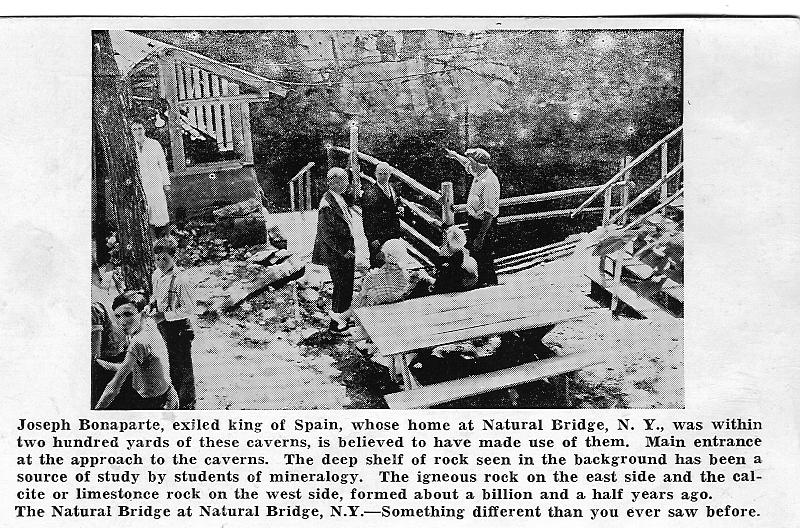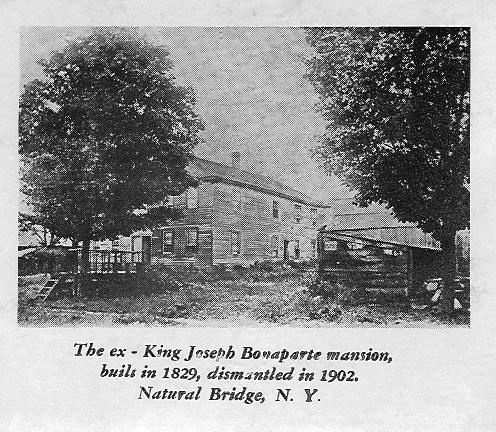 Bonaparte Home Built in 1829 & was dismantled about 1903
Owned & operated by Leon & Irene Face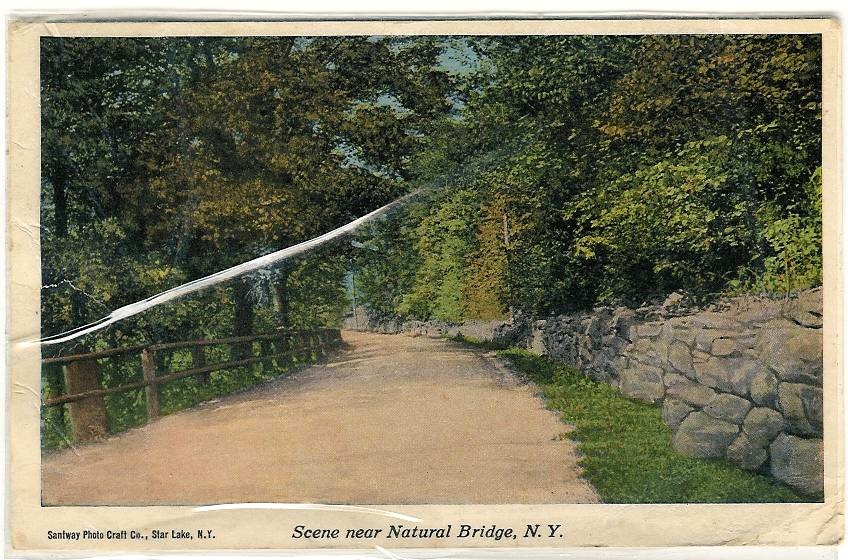 The dug out along Depot St. next to river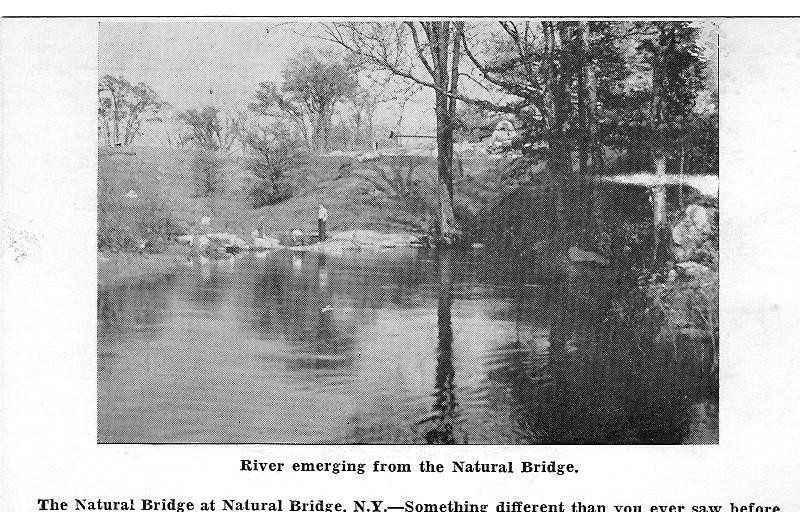 Caverns where the river comes out of the ground after going through the caverns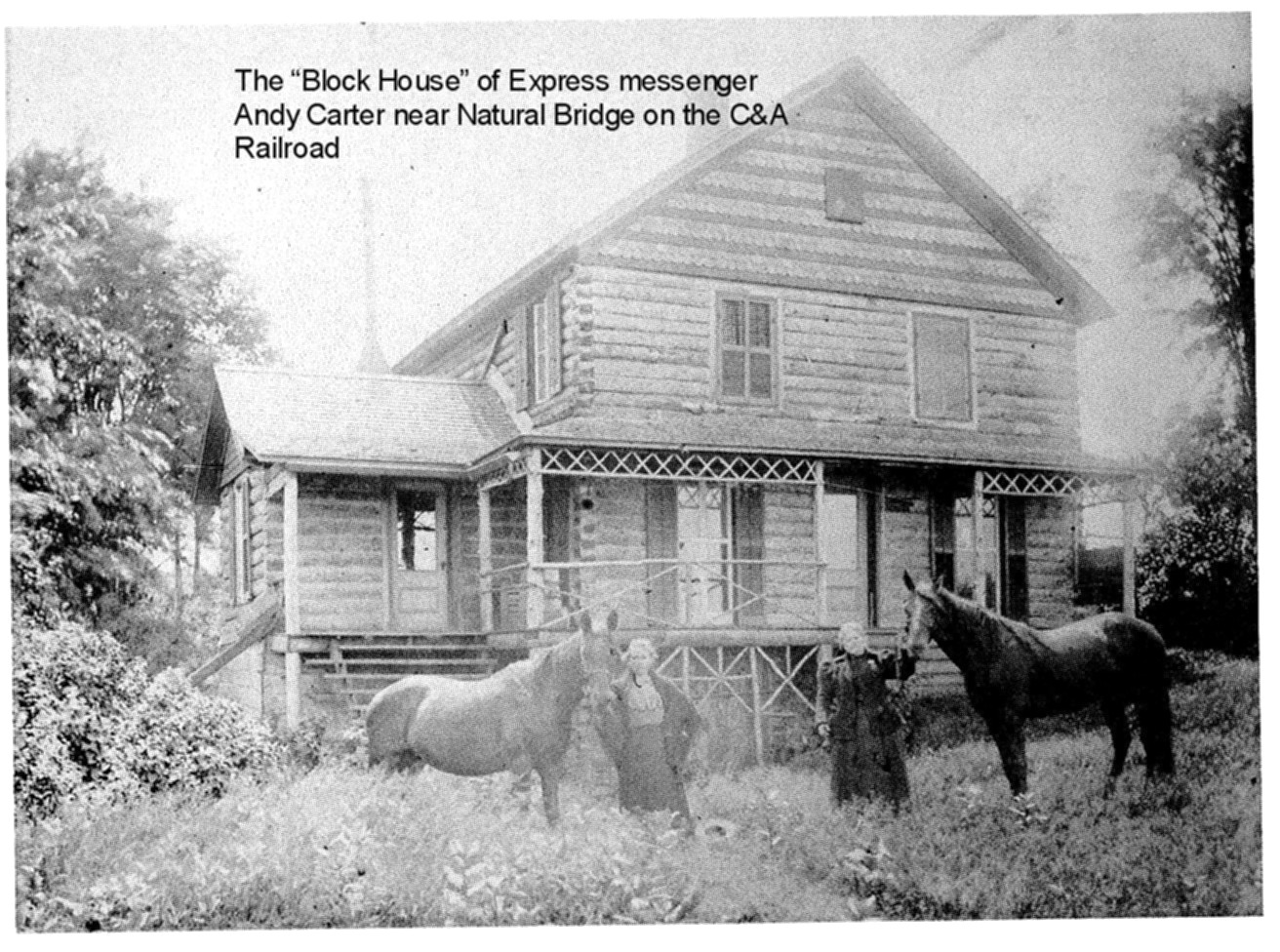 The Block house in the forest near Natural Bridge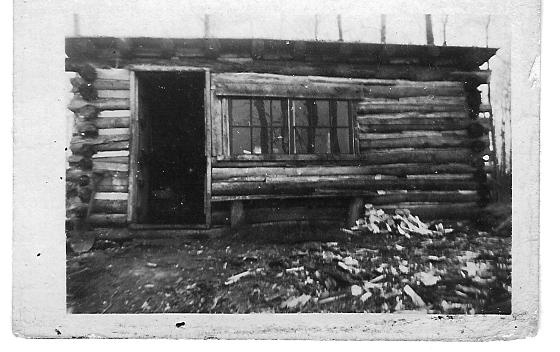 Lake Pond Camp in the 40s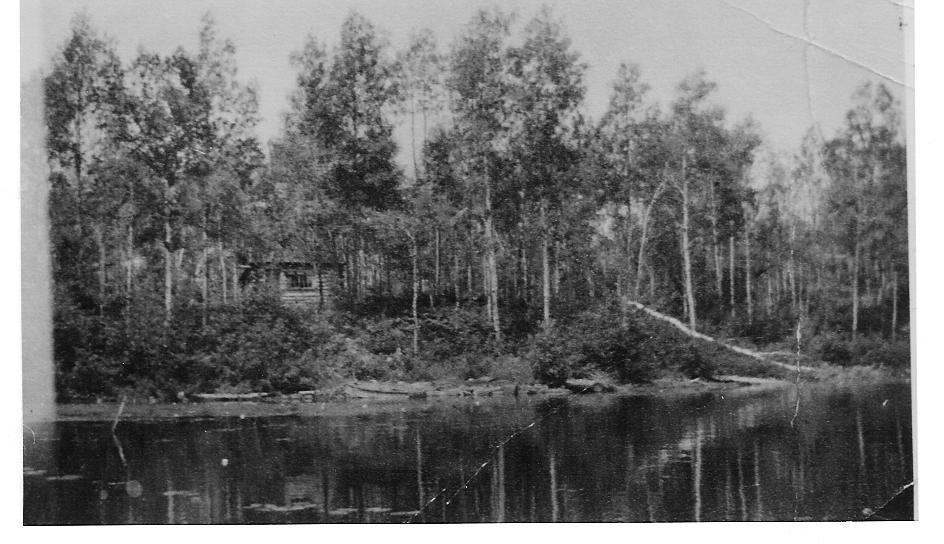 Lake Pond Camp differant view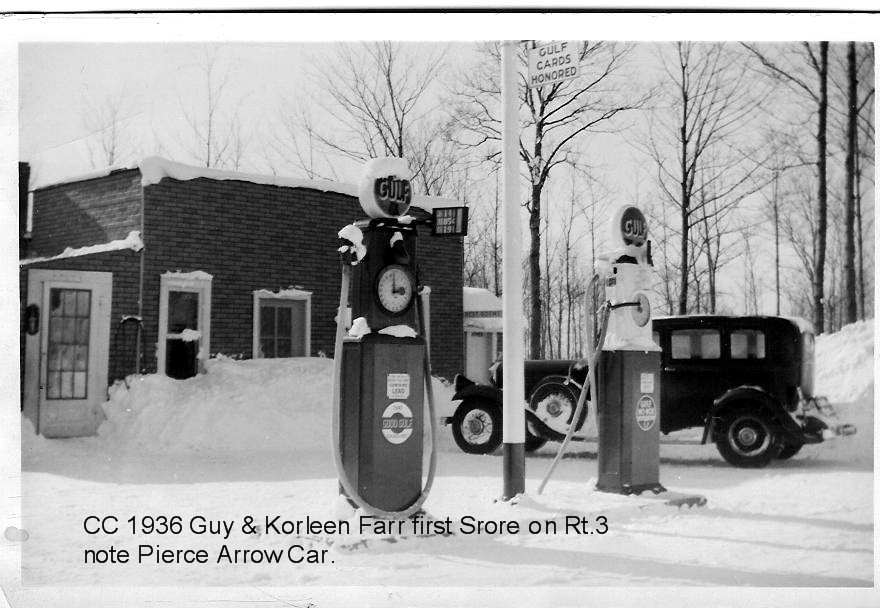 Guy & Korleen Farrs first store Built in 1934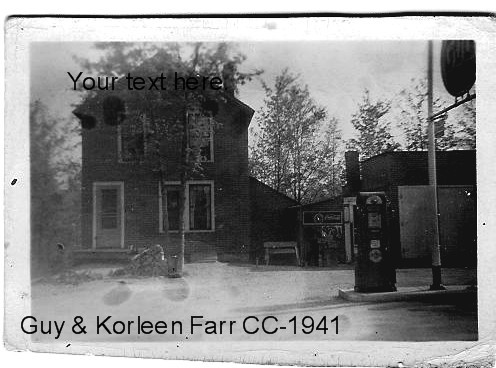 Guy & Korleen Farrs New addition House about 1941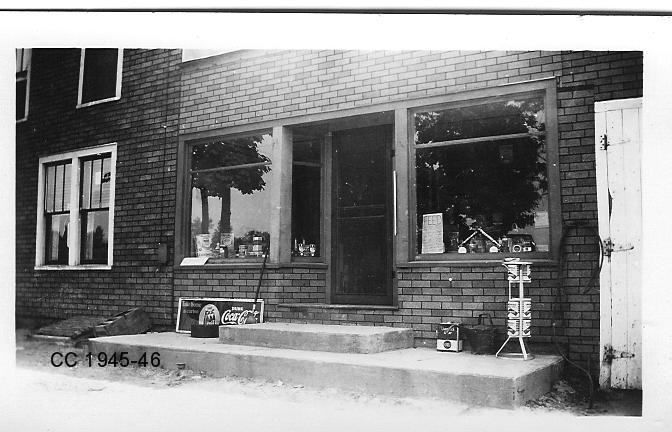 Guy & Korleen Farrs New Store-about 1946-47
Carbola Chemical Co. Mine shaft about 1940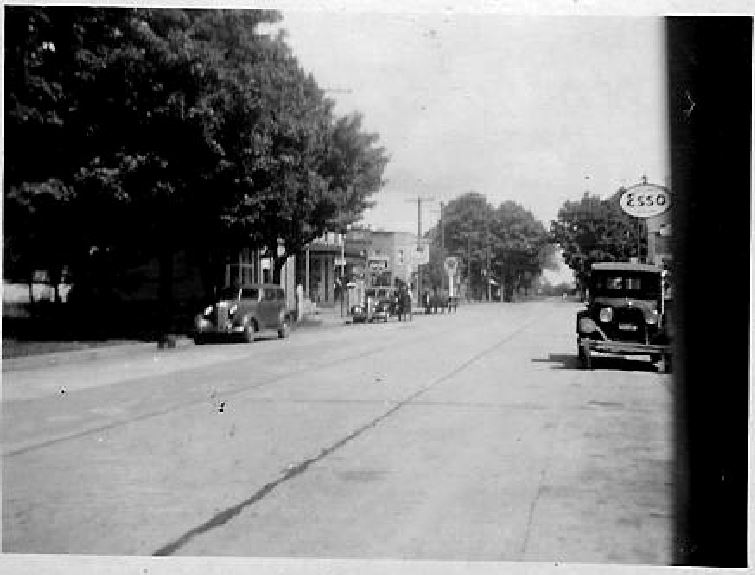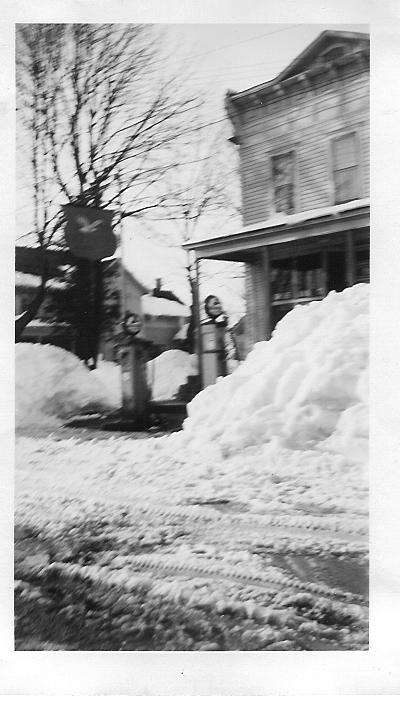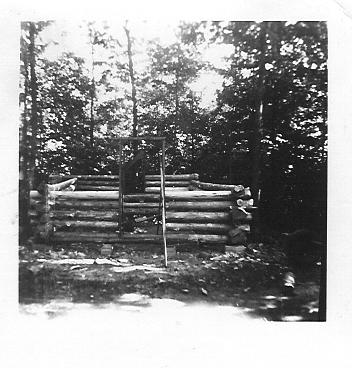 Log Cabin Built by Guy Farr about 1945. He built it to rent.
Depot St looking west toward Nat. Bridge (No Snowplows)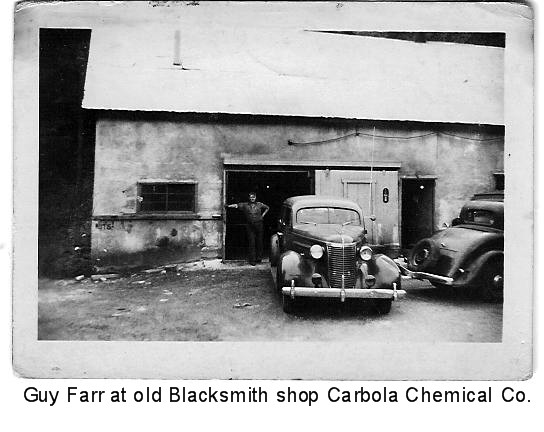 Old Blacksmith shop at Carbola torn down in the 50s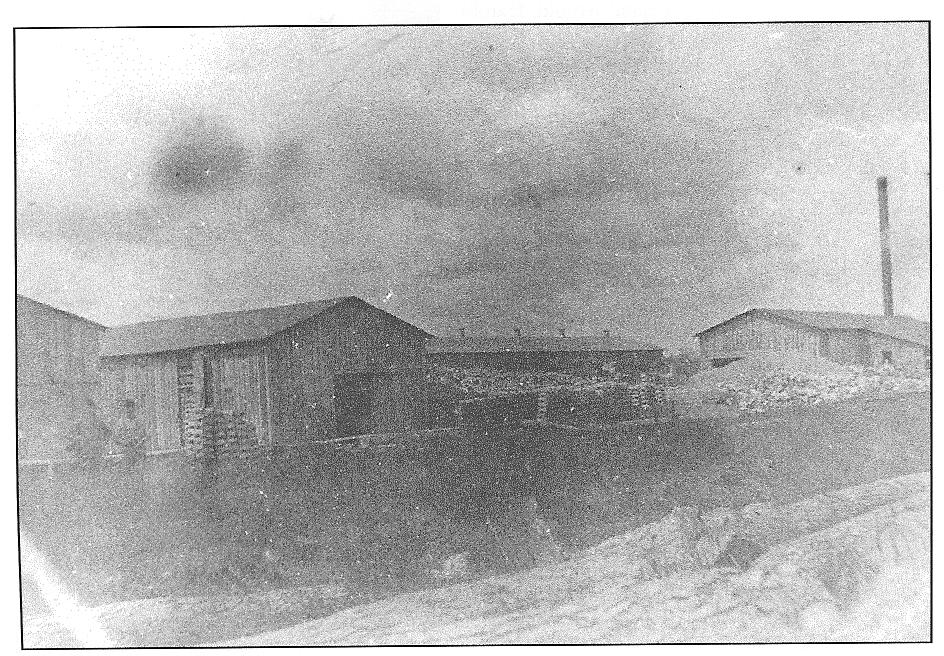 Last Factory on Depot St. or Factory Rd. Closed in the 40s
Lewisburgh Corners notice signs for Indian Lake and Antwerp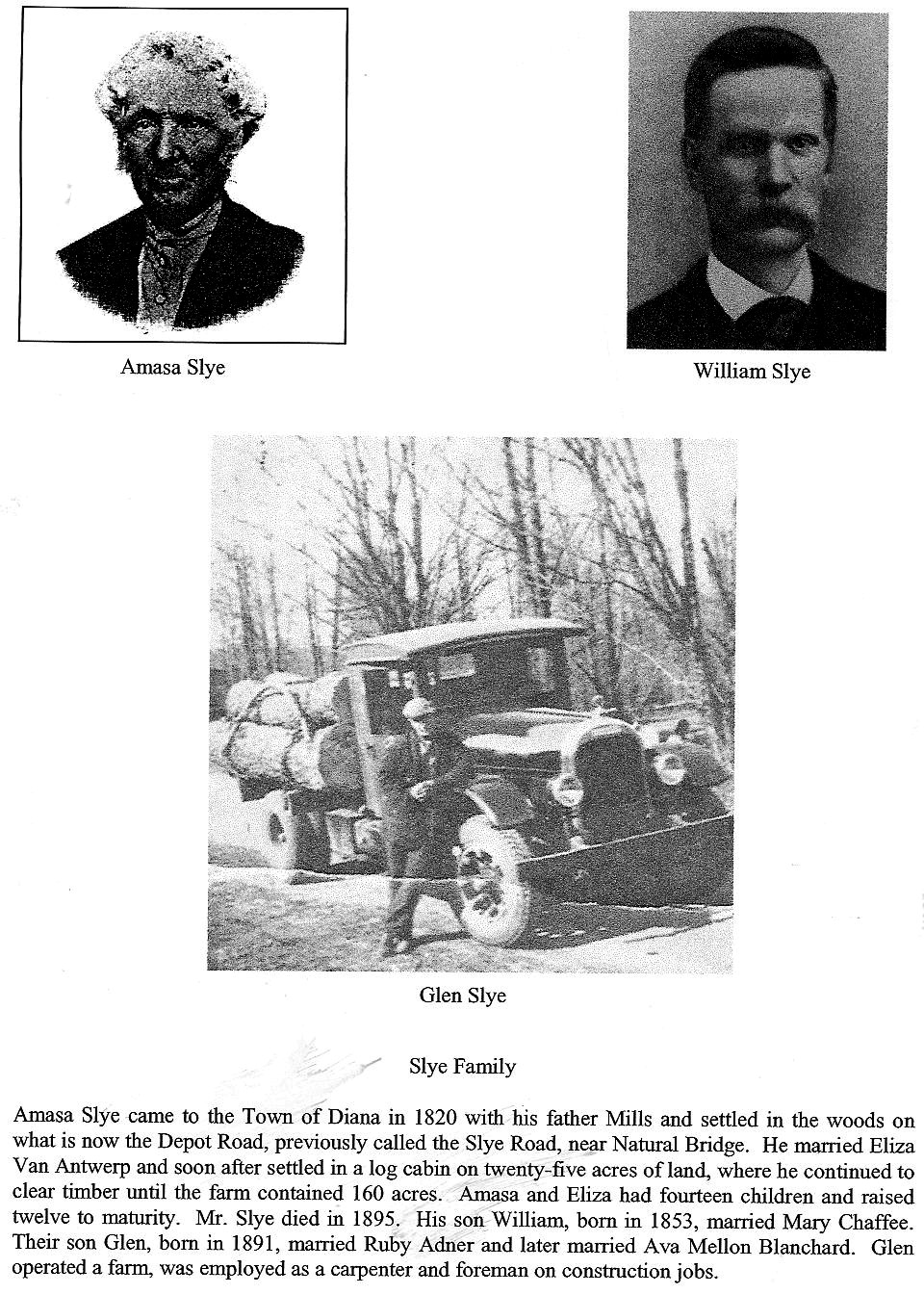 The Slyes were one of the earliest settlers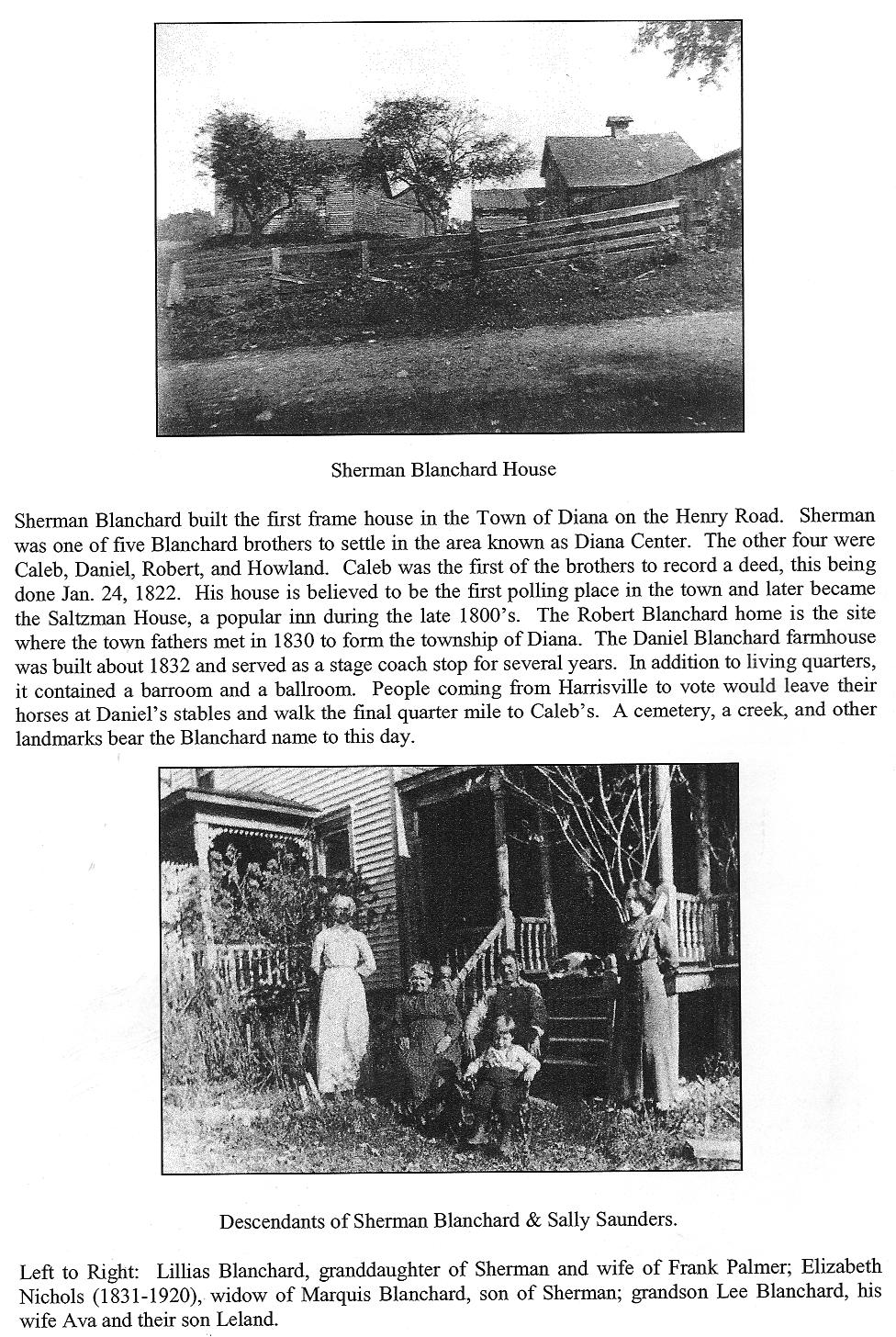 Blanchard home on Mcoy Rd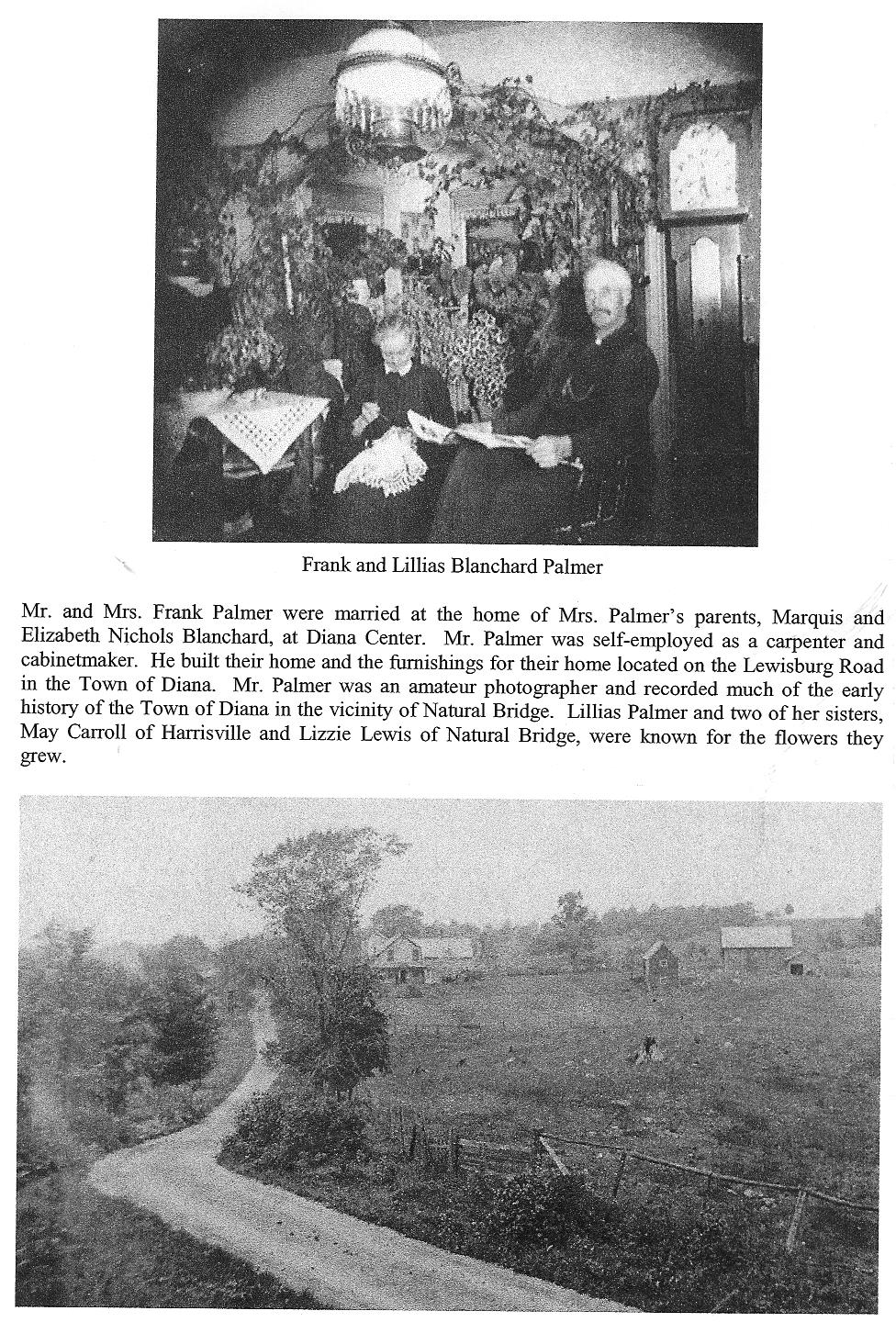 Frank Palmer Home on the Lewisburgh Rd
Richard and Mary Dunigan Prittie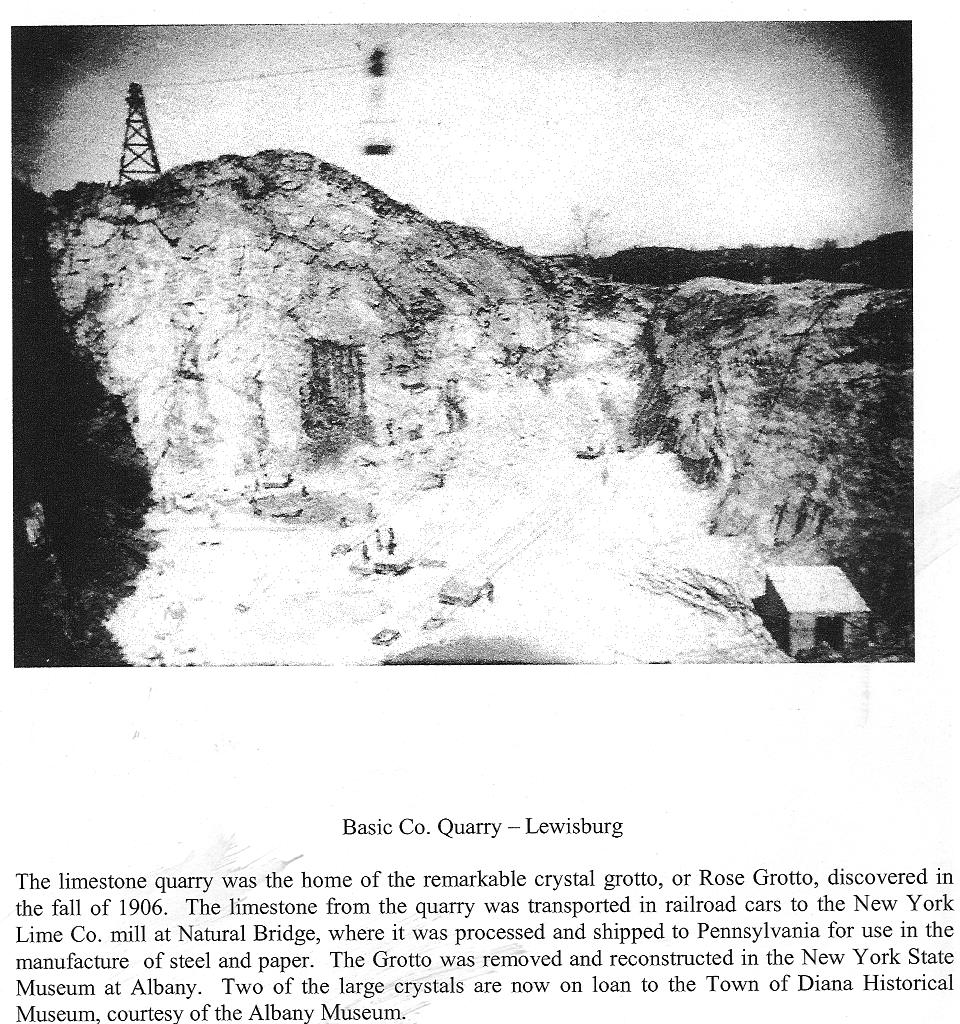 Quarry on Fort Drum that used to supply the Lime Mill at Nat. Bridge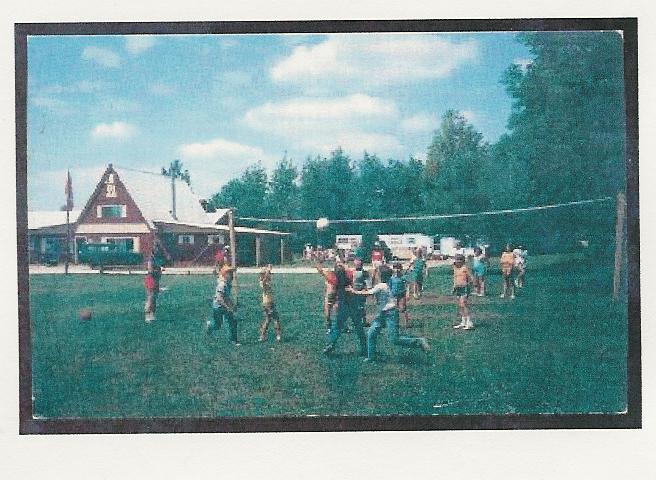 KOA Campground Nat Bridge opened Spring of 1971 Built by Brad & Eleanor Farr- They operated until summer of 1983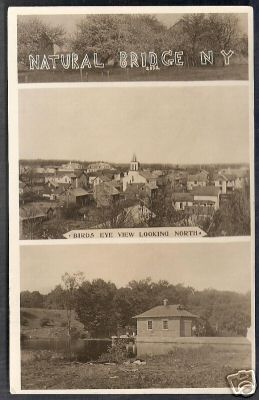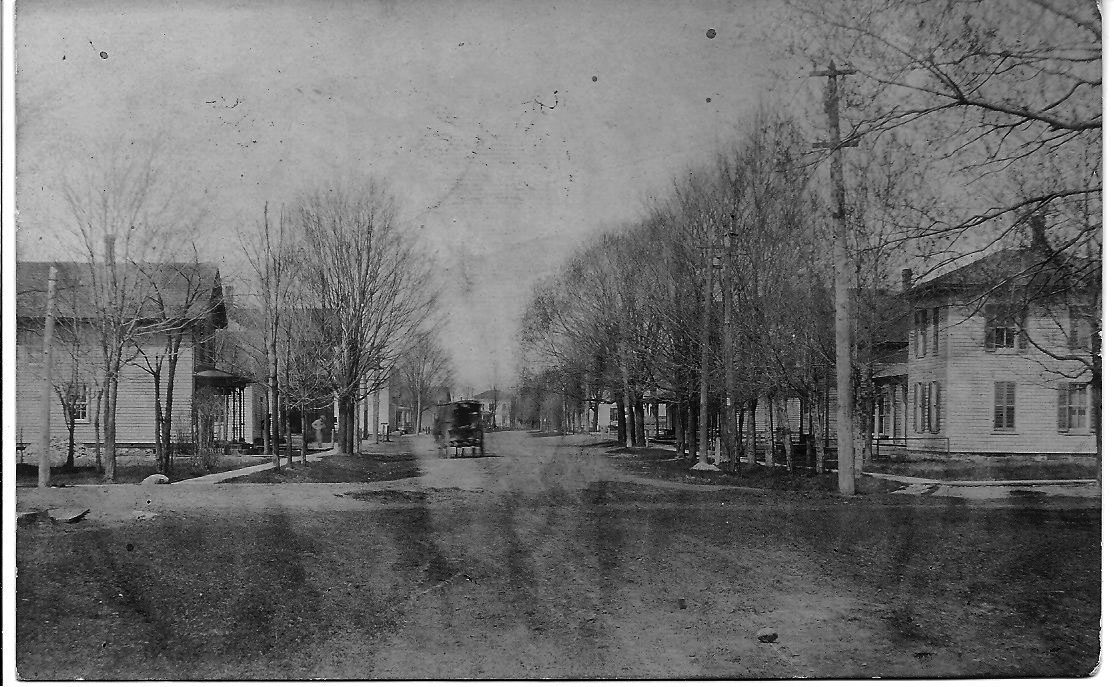 Main Street (Date unknown)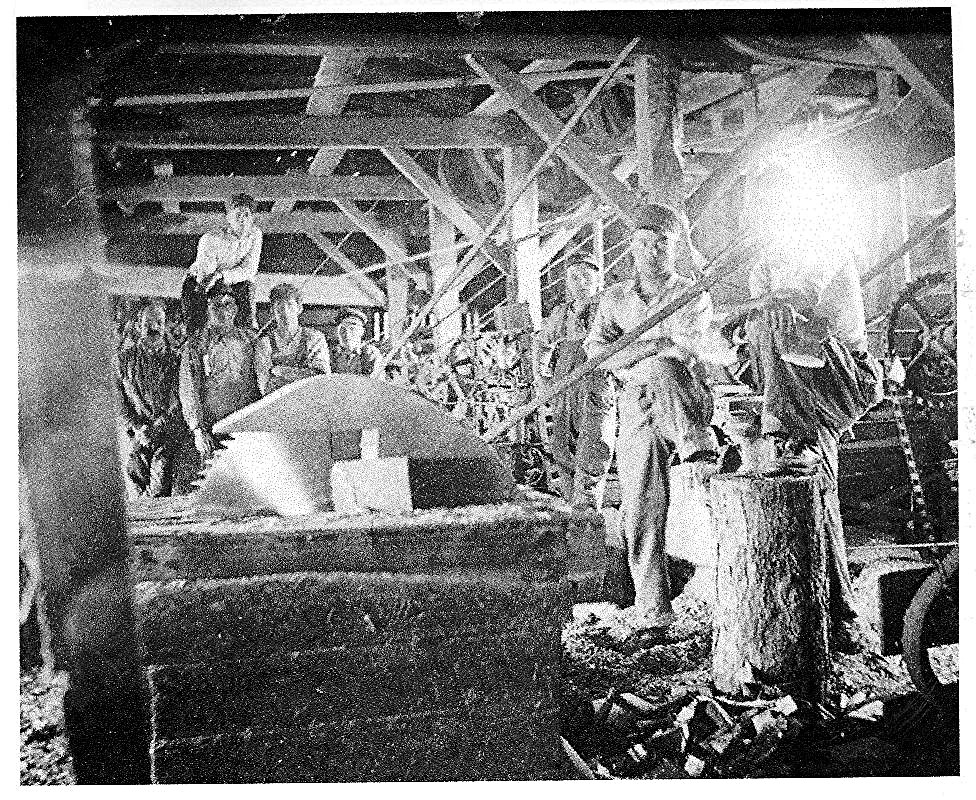 Inside the Last Factory on Factory St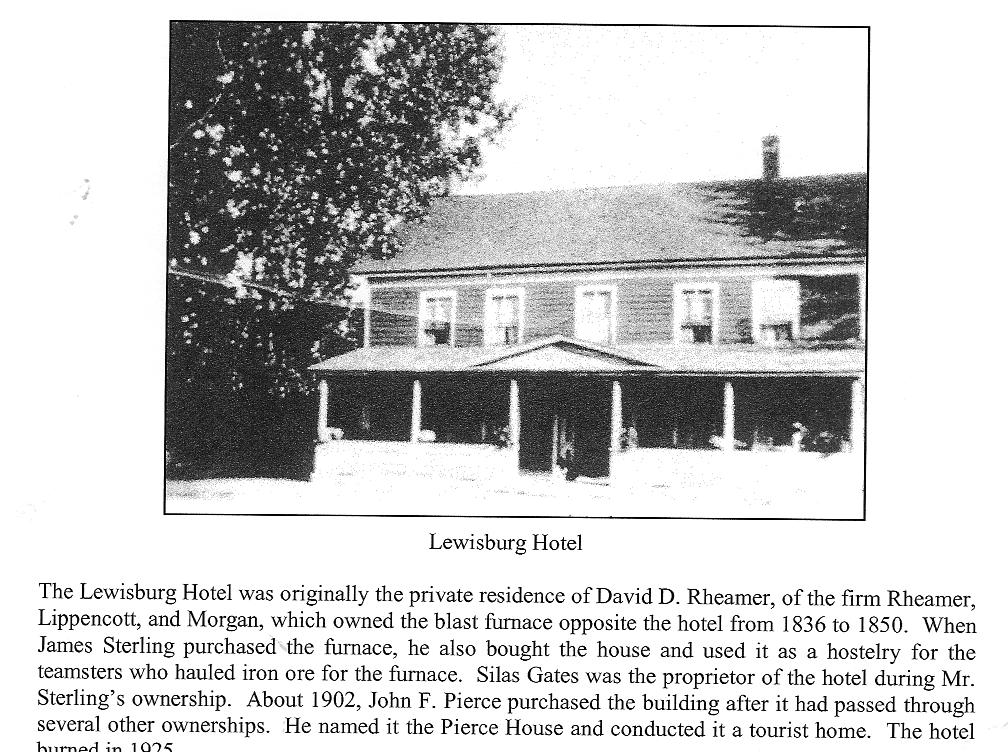 Carbola Chemical Co. and some of the employees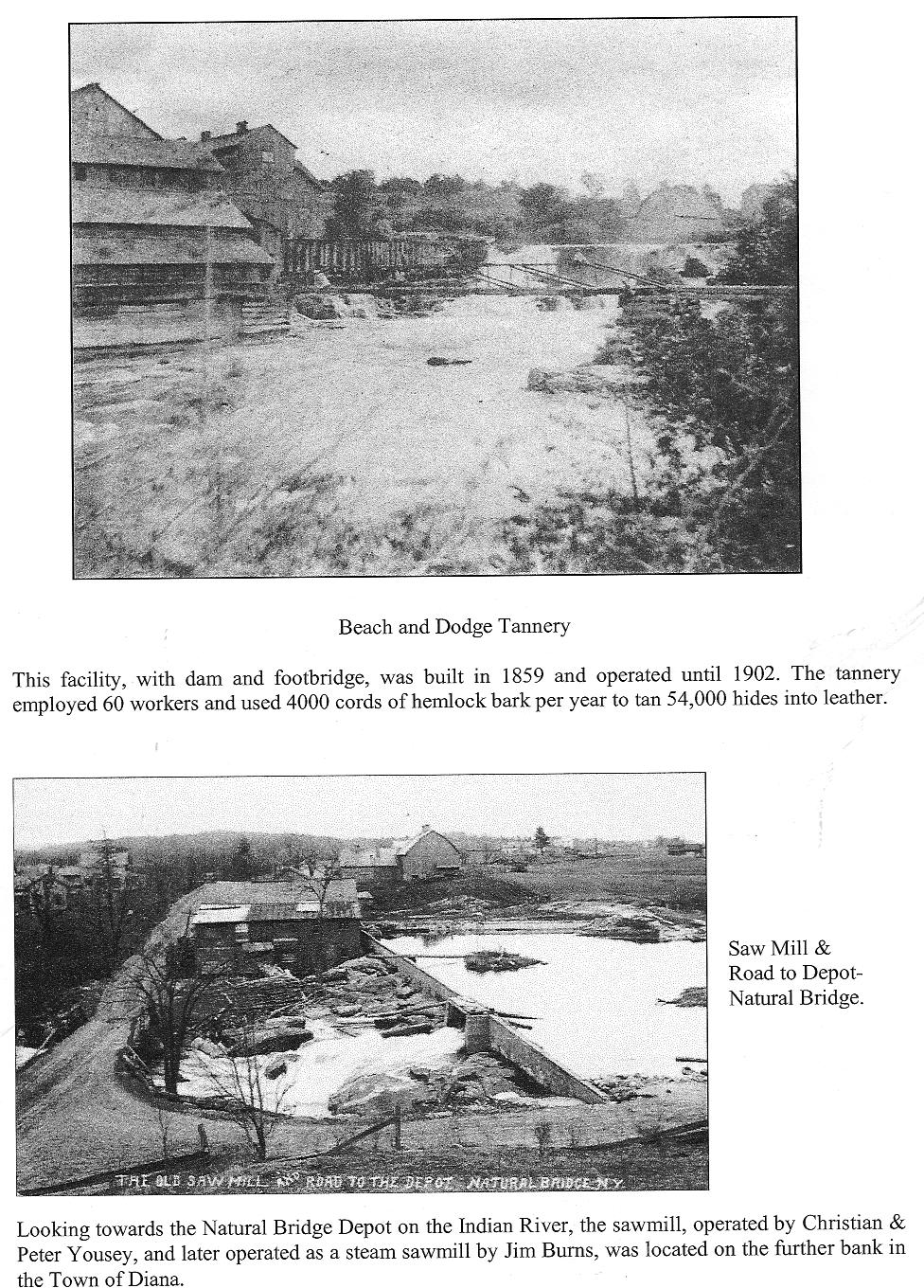 Factory Rd Saw Mill & Dam you can still see remnants of the Dam 2008
Glen Slye and Asa Phillips with Glen's Trucks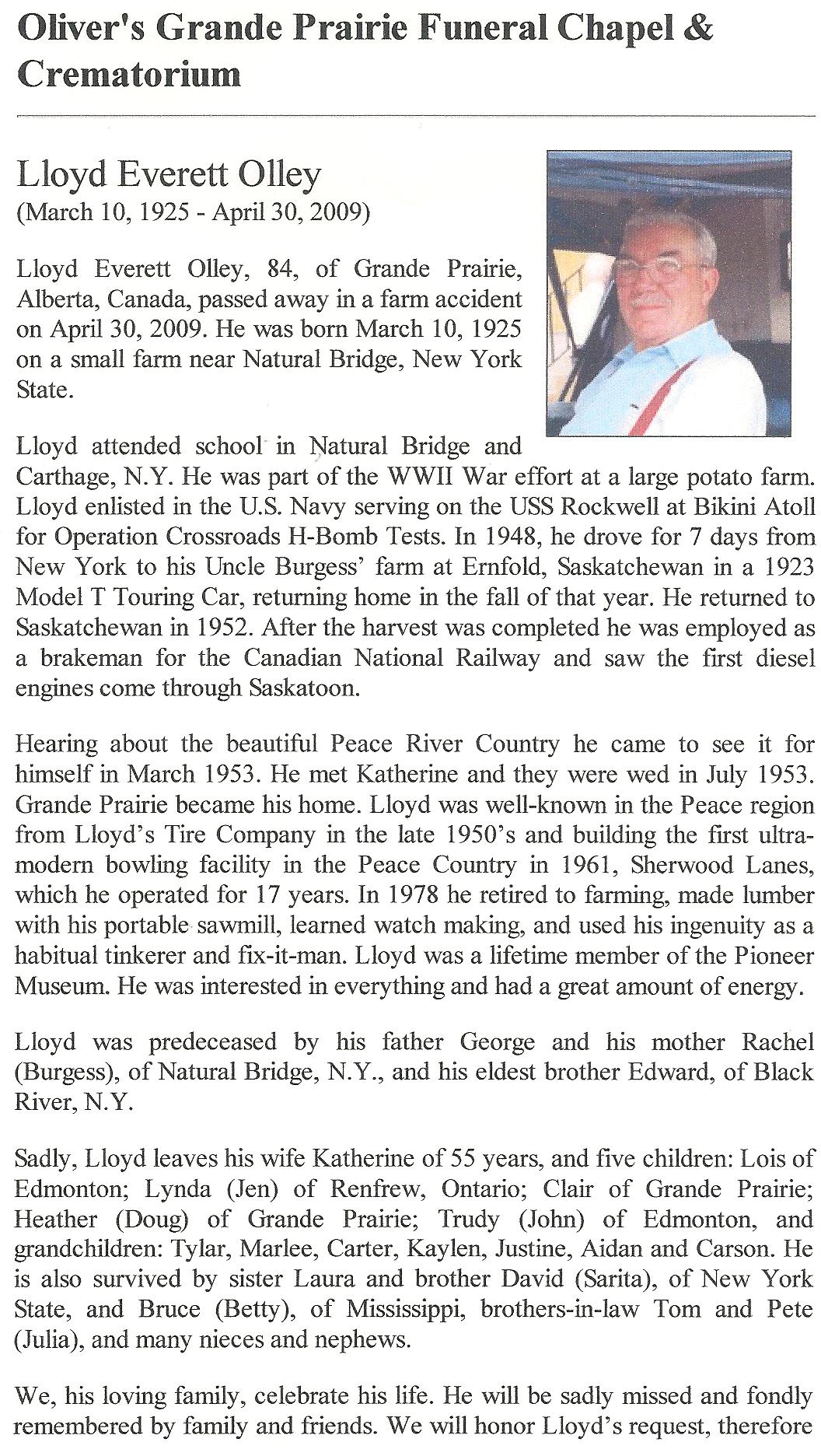 Lloyd brings back many memories such as his trip in the Model T mentioned in his Obituary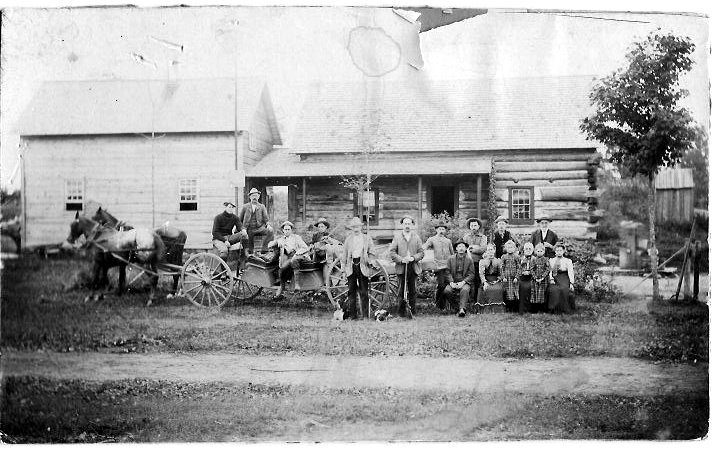 If anyone knows where or who the people are would you please let me know.
—Brad